Much like keeping an MOT on your vehicle, having up-to-date security on PCs and mobile devices is vital for the safety of your organisational data. Endpoint security must be managed proactively to protect against a landscape of constantly evolving exploits and vulnerabilities.
The Cyber Devil is in the detail
Research tells us most organisations in healthcare still have a fragmented and manual method of ensuring user devices are routinely patched and secured. Unified Endpoint Management (UEM) is an essential aspect of managing an IT estate security and preventing attacks like 2017's WannaCry, the ransomware attack that reeked havoc across so many PC's in in the NHS.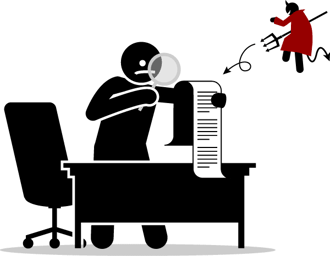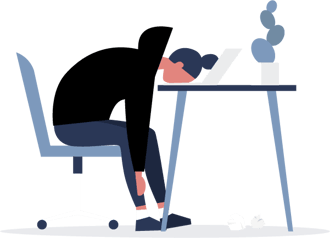 Time-consuming or expensive processes often don't get done
Many powerful preventative security precautions, such as endpoint security, are simple processes that get missed out. These tasks have the potential to protect an organisation from attack but they are often scheduled or not completed on time due tho them being time-consuming or manual.
THE SOLUTION
As the UEM market has matured over recent years, Alphalake's partner, Baramundi, has emerged as a global leader, through its ability to offer a single solution that drastically reduces the IT overhead in managing security.
The Baramundi Management Suite provides powerful, modular and flexible endpoint management, which automates time-consuming routine jobs in networks and has proven effectiveness in the healthcare sector.
Measurable Efficiency Outcomes for NHS Trusts and German Healthcare Providers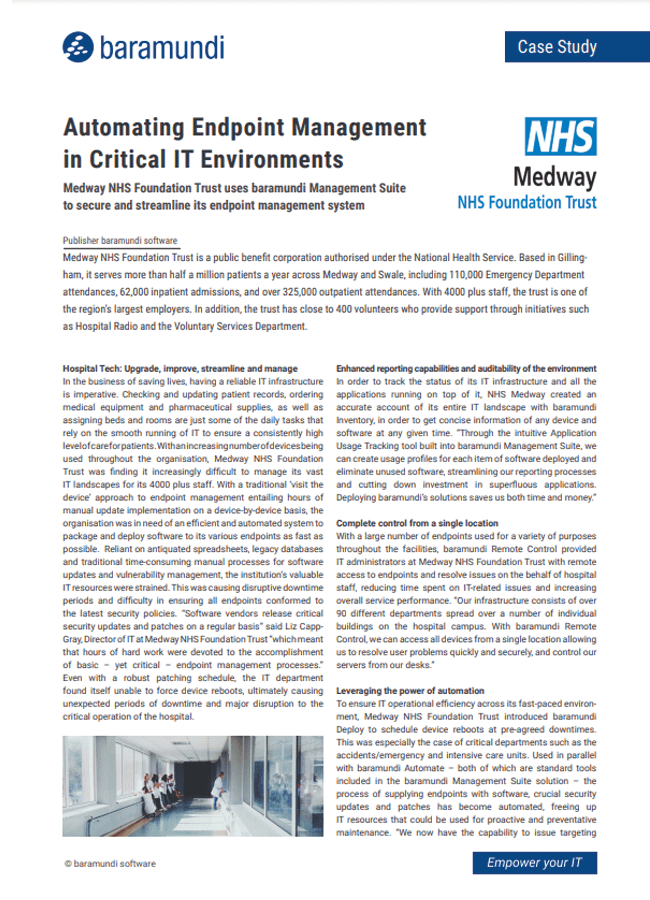 Automating Endpoint Management in Critical IT Environments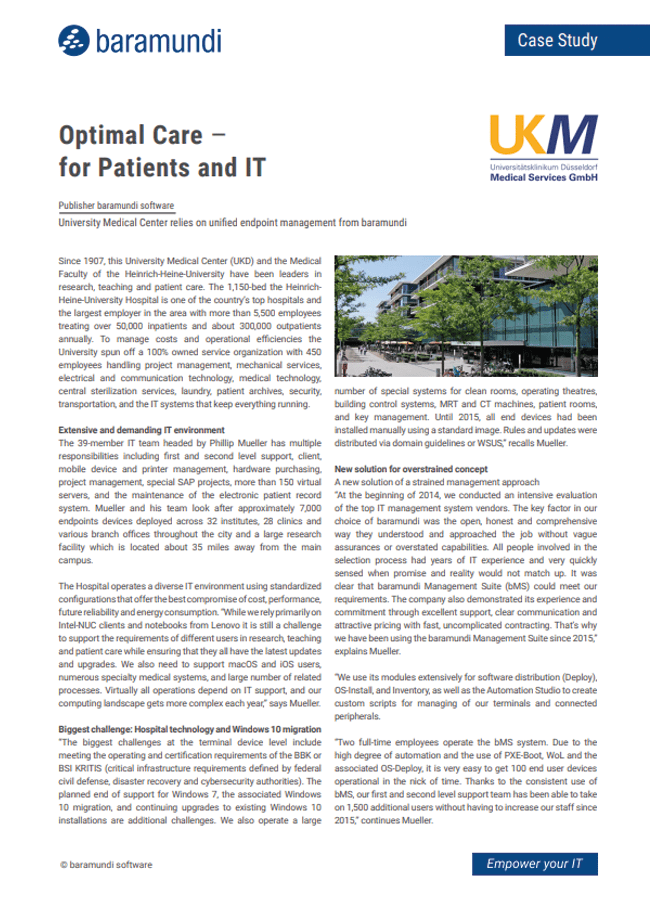 Optimal Care for Patients and IT
The Baramundi Endpoint MOT has got you covered with a free of charge systems check. The automated analysis reveals existing vulnerabilities on your systems and provides you with a detailed report about the severity and the best solutions for you.
Special free draw for
early birds

Win the full Baramundi management suite for free for 1 year - for your whole organisation!
If you are a new Baramundi customer and your organisation participates in an Endpoint MOT before the 31st of March, you automatically qualify for the Early Bird Free Draw!
Baramundi Management Suite- One year subscription
(up to 10,000 endpoints)
Installation by baramundi Consultants, 12 months support and maintenance
Amazon voucher worth £100 in value
Access to forum, knowledge base and all baramundi modules.
Alphalake and Baramundi launch partnership
Increased efficiency of Information Security in Healthcare:
The Alphalake and Baramundi partnership brings together expertise in Intelligent Process Automation, healthcare systems and Endpoint Security to improve how information security is managed across the industry.


We are all excited by what we can achieve together for the healthcare sector with baramundi. Alphalake's domain expertise in healthcare and process is a natural fit with the automated Endpoint Security baked into the baramundi platform. I've enjoyed working with their team to modernise healthcare information security in the past, it's great to now help more healthcare organisations move towards a position of Autonomous Cybersecurity.

Olly Cogan
Founder and CEO, Alphalake Ai