With hyperautomation identified as one of the top 10 technology trends in 2020 by Gartner, it is set to be an essential tool for organisations looking to automate processes and leverage advanced analytics.
Hyperautomation allows the continuous integration of automation into your organisation's operations. By continuously optimising, scaling and extending automation of workflows, organisations can drive high levels of performance and redeploy human workers in value-adding roles.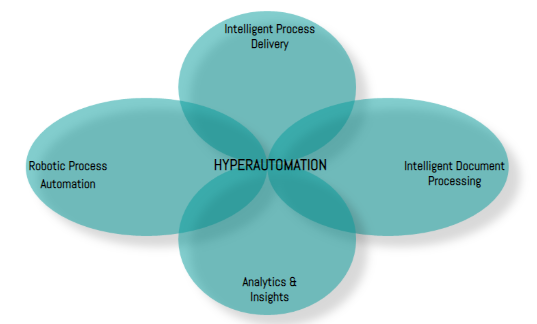 How Does Hyperautomation Work?
Hyperautomation is an extension and an expansion of automation, combining intelligent process discovery, intelligent document processing, analytics and insights, and Robotic Process Automation (RPA) to automate complex workflows. By understanding how these tools work together and can be leveraged at every stage of the automation process (discovery, analysis, design, automation, measurement, monitoring and reassessment), you can optimise your business.
To achieve hyperautomation, companies must create a Digital Twin of their Organisation (DTO) for modelling scenarios. Organisations are then able to test the benefits and shortcomings of various digital and automation transformations to enable them to deploy the most beneficial outcome.
Gartner describes hyperautomation as "an effective combination of complementary sets of tools that can integrate functional and process silos to automate and augment business processes." Some of the tools used to achieve hyperautomation include:
Intelligent Process Discovery
Intelligent process discovery uses automation tools such as MyInvenio to discover and map processes within an organisation. The software can then analyse the data to identify best paths, bottlenecks, critical activities and resources, and deviations, and perform root cause analyses.
There is a misconception that process mining and discovery are only applicable at the start of a digital transformation project. In fact, successful automation projects should review the processing and decisions made by bots on an ongoing basis to make corrections in rules or logic as needed. This continuous improvement is one of the cornerstones of hyper automation.
Intelligent Document Processing
By using Artificial Intelligence cognitive technologies such as computer vision, optical character recognition (OCR), fuzzy logic, and machine learning (ML), hyperautomation enables you to capture, extract, and classify unstructured information. These technologies allow your digital workers to see, read and process more knowledge-based work.
Robotic Process Automation
The role that Robotic Process Automation plays is to execute structured business processes at high speed and free from errors. RPA offers the ability to overlay these software robots over pre-existing applications and set them up to perform process tasks 24/7 for agile and easily scalable business process automation.
Analytics and Insights
Hyperautomation analytics give insight into the way the digital bots are working and what they encounter along the way. Each bot is self-monitoring and measuring its performance with this data then being automatically processed and analysed to draw insights into how to optimise performance and to predict what is likely to happen next. These insights and analytics allow you to quickly review the ROI of your automation projects against your organisation's goals.
Advantages of Hyperautomation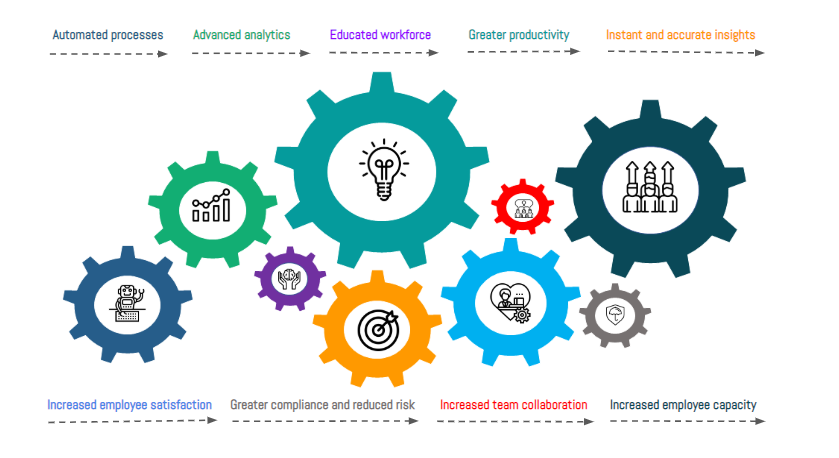 Hyperautomation facilitates:
Increased team collaboration - hyperautomation engages everyone in the organisation in the digital transformation. By combining RPA and intelligence, software robots can interact with users across core organisational processes, directly benefiting customer experience and satisfaction.
Advanced Analytics - embedded analytics strategically align RPA operations with organisational objectives.
Automated processes - both repetitive processes and knowledge work can be automated to increase efficiency and reduce errors.
Instant and Accurate Insights - to optimise performance and minimise risk.
Greater compliance - regulatory constraints and enterprise standards can be built into the workflows to ensure compliance and assist with audit reporting
Greater Productivity - human workers can work faster and focus on value-adding tasks, with software bots to support them by carrying out repetitive tasks.
Deploying intelligent digital workers via hyperautomation allows you to utilise structured and unstructured data, connect various business applications, analyse data for decision making and discover new automation opportunities.
Join our readership, get expert insight and opinion on automation and AI in healthcare directly delivered to your inbox:
×