Have you or your team got an idea for an Intelligent Automation solution that could transform the experience of your patients? Do you have an ambitious automation idea that could significantly reduce your administrative burden or that of your colleagues? Alphalake Ai's Intelligent Automation for Health and Care competition has been designed to give a platform to innovative thinkers like you.
The competition will open for submissions on May 30th, 2022 and close on June 27th, 2022. There are two categories – one for individuals and one for teams – and the top three ideas in each division will win a prize. Winners will be announced by mid-July, 2022.

The ethos behind this competition
There are so many great thinkers out there, but not everyone has the ability to share their transformative ideas, and even fewer people have access to the resources needed to bring them to life. Our aim with the Intelligent Automation competition is to address this issue by creating a direct connection between developers and the people who are working within health and care.
As a professional within this sector, you have deep, personal insight into daily operations, the challenges that hold you back, and the solutions that could help you deliver better results. This competition is your chance to do something about any obstacles or inefficiencies that frustrate you at work.
In the words of Alphalake Ai's CEO, Olly Cogan:

What are we looking for exactly?
We're open to ideas that could streamline clinical services, improve the delivery of care, and lead to better patient outcomes. However, as you know, there's far more to every health and care organisation than clinical service delivery. So, we also welcome innovative automation ideas that could lead to greater efficiency in all aspects of your organisation, from HR and finance to marketing and administration.
No idea is off the table. However, we do have a piece of advice to help you hone your submission. In the world of automation, the most valuable innovations combine simple execution with a powerful impact. So, look for those little inefficiencies that add up to hours of lost time, and those relatively straightforward changes that would have a significant impact on your team, your patients, an entire department, or all of the above.
A word on the competition categories
If you've come up with a unique idea on your own and you want to submit it, the individual division is for you. If you're in a team and you've come up with an idea collectively, you may wish to consider the organisation side of the competition. However, you will need to obtain official approval to submit on behalf of your organisation.
Also, keep in mind that both organisations and individuals can submit more than one idea, so long as they are unique and detailed in separate entries.
What can you win?
If you'd love to see your idea actually implemented in a health or care organisation, now is the time to take action! Every entry will be reviewed by a panel of industry experts, which means that no matter the outcome, you'll get to showcase your ideas to people who can help them become a reality.
Your competition judges this year are:
Olly Cogan | CEO and Founder of Alphalake Ai

Claudia Pagliari | Director of Global eHealth at University of Edinburgh




Dilshan Arawwawala | CCIO of Mid and South Essex NHS Foundation Trust




Masood Ahmed | CCIO of The Black Country & West Birmingham CCG




Hassan Chaudhury | Global Digital Health Specialist, Healthcare UK, Department for International Trade (DIT)
Of course, no contest would be complete without prizes. For the Intelligent Automation competition, we have three prizes on offer in each category:
Individual Prizes
iPad Air
Vive VR Headset
Wireless headphones
Organisation Prizes
£1,000 of vouchers for Curry's
£750 of vouchers for Curry's
£500 of vouchers for Curry's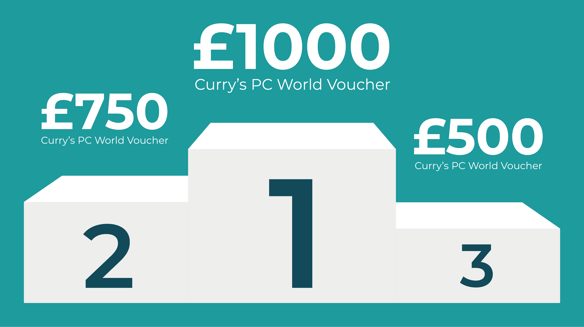 If you're ready to get started on your entry, visit Alphalake Ai's Intelligent Automation for Health & Care competition page for all the submission details.
The competition closes 11:59 pm BST, 27th June 2022.
Join our readership, get expert insight and opinion on automation and AI in healthcare directly delivered to your inbox:
×