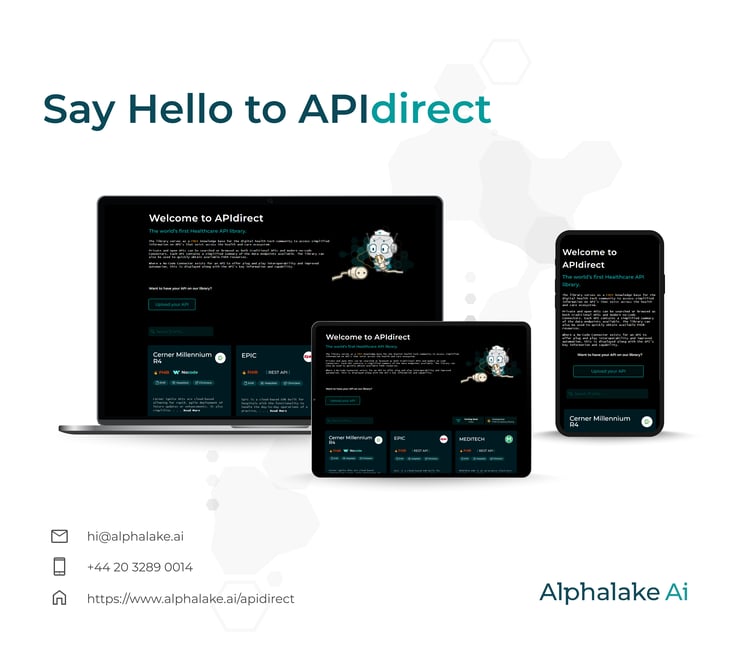 London, U.K., Nov 22, 2022 - Alphalake announces APIdirect, the world's first free-to-use Healthcare API library, serving as a knowledge hub for the digital health community.
"The APIdirect Library is the epicentre of a comprehensive, better joined-up healthcare landscape that offers market impact for organisations that use it." - Ben Webber, Director of Strategic Partnerships at Alphalake.
The APIdirect library offers you, as a user, a new way to access simplified information on APIs throughout the health and care ecosystem. It provides a unified source for you to obtain critical, decision-making information on the availability and capability of APIs for your organisations and teams' bespoke uses.
The library includes version releases, utilisation data, and FHIRs (Fast Healthcare Interoperability Resources) that are updated for you on a weekly basis.
Cerner, EPIC, MEDITECH, PatientSource, Doctrin and EIDO are among the dozens of organisations with powerful APIs listed in the Library for you to leverage in your organisation.
Olly Cogan, Founder and CEO of Alphalake explained why building the APIdirect Library was a must by commenting: "Robust APIs are table stakes for any health tech organisation, but they're only the beginning; they need to meet your customer process and workflow needs, which are always changing".
Lee Francis, Co-Founder at PatientSource, commented on the market impact the APIdirect Library will bring by saying: "Being able to browse the APIdirect Library of likeminded innovative organisations, leading the way through interoperability, is a fantastic resource and sparks ideas for connectivity, over and above the usual suspects."
The library contains more than 160 data points and 25+ APIs that you can activate in your own tailored organisation roadmap. Because of this, you have an influential support ecosystem for integrated Automation within Healthcare ready to use at your fingertips.
The time is now to embrace a modern approach and create better-connected healthcare, encouraging Health Tech organisations to submit their APIs and become part of the No Code ecosystem we are building across Health and Social Care.
---
About Alphalake Ai

With teams in the UK, India, UAE and Australia, Alphalake Ai is a health-tech organisation specialised in intelligent healthcare automation. From strategy to operational design and implementation, we can help you receive assistance with its innovation and digital transformation endeavours.

The start-up helps patients and healthcare workers by using integrated automation, digital assistant chatbots and data science & agility to decrease administrative burden and improve the patient experience.
Supporting Quotes for Editors and Press
"A truly great initiative, and very pleased to be one of the first health tech organisations to join the APIdirect Library" - Craig Oates, Managing Director, Doctrin UK
"This major launch of the world's first Healthcare API Library is a phenomenal tool to support the health and care ecosystem." - Chris Thomas, The Health Foundation and Cerulean Blue
Contact
Paul Buckland
Content Executive
Ben Webber
Director of Strategic Partnerships
Join our readership, get expert insight and opinion on automation and AI in healthcare directly delivered to your inbox:
×