Workato is an integration platform as a service (iPaas). They connect clients' enterprise software applications across each other, allowing communication of functions between departments such as HR, marketing, finance, sales, customer service, DevOps, and IT operations. This communication paves the way for automation of workflows, potentially boosting productivity massively and saving time.
Their platform focuses on a low-code/no-code UI, replacing coding with automation 'recipes'. Their interface uses visual programming, using a flowchart type system to visualise and edit your automation recipe easily. This approach makes a once complicated task accessible to a much wider audience.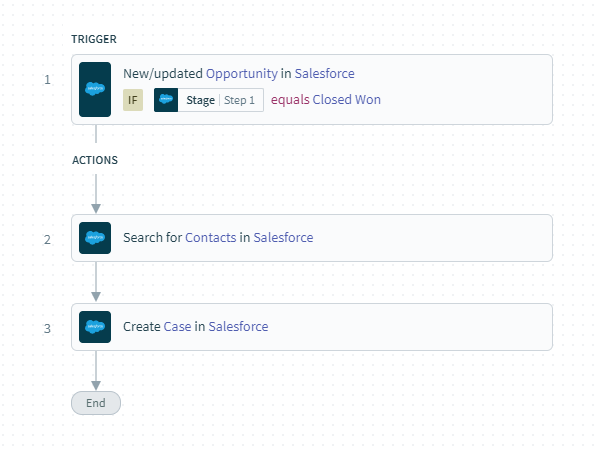 History
"We thought we had solved The Integration Problem back in the day and moved on to other things like SaaS, consumer, and big data. There was a sense that middleware products and technologies had become mature and full-featured. However, the urgent and, now, the universal Digital Transformation imperative and the explosion of Cloud apps and APIs unleashed by it has changed everything." -Vijay Tella, CEO & Co‑Founder at Workato.

Innovation is essential for the survival of organisations, and the process is often painfully slow, complicated and technical. Workato provided an easy-to-use platform in order to automate workflows and drive innovation.

Four years after Workato's founding, they raised $10M in Series A funding which was made possible by Storm Ventures, Salesforce Ventures and Workday Ventures.

Just over a year later in December 2018, they raised an additional $25M in Series B funding. This round was led by Battery Ventures, Storm Ventures, Workday Ventures, and ServiceNow. Workato also launched a major platform update around the same time, their total investment now reaching $40M.

Less than a year later, in November 2019, Workato received a further $70M in Series C funding, bringing the total funding to $111M. The funding round, led by Redpoint Ventures, included new investors Geodesic Capital and Norwest Venture Partners and existing investors Storm Ventures and Battery Ventures.
A thirst for Automation
Workato's ease of use and usefulness has undoubtedly fuelled their skyrocketing and also demonstrated a thirst for this kind of technology.
Software automation accelerates workflows and makes them more cost-effective, accurate, scalable, and measurable. But it also gives organisations full view and control over a collection of systems to optimise their use. These benefits offer enough value that automation is becoming a staple within businesses and organisations.

Automation has caused some talk of replacing jobs. Which is true to some extent, but this is very limited to jobs that require very tedious, rule-based, predictable and repetitive tasks- which are only a fraction of a certain job role. Many make the assumption that automation puts the highest risk on jobs on the lower end of the pay-scale. However, the lowest-risk jobs are actually those on the polar ends of the pay-scale. Complex decision making, research-based jobs that are higher-paying, as well as the lower-paid nonroutine, interpersonal jobs are at the least risk. Automation alleviates tedious tasks from workers, giving them more time and energy for the tasks requiring judgement or creativity.

In the healthcare industry, these repetitive tasks are often loathed by healthcare office workers. Some organisations are weighed down by outdated systems, forcing many tasks to still be on pen and paper. Many organisations are simply overloaded by the amount of patient data that is handled manually on a daily basis. A large fraction of these jobs are perfect for automation; transferring data between systems, checking for allergies, ordering electronic prescriptions or validating a spreadsheet's entries against data on a website.
The value of humans
With much discussion around what automation can do; where we should avoid automation is equally essential. It is often easy to get carried away with what you can automate as it takes burdens off of us, but a line needs to be drawn.
Machines are good at predictable, repetitive tasks; they're quite literally binary. They are not good at understanding emotion, creative tasks, judgement or natural human communication.
It is important not to underestimate the value of human work.
Humans can understand complex situations and emotions, we can make educated decisions, we can make judgements, we can create bonds with other humans and so much more. All of these come from years of experience and wisdom or simply being a sentient being. The importance of humans couldn't be more evident than in healthcare and patient experience.

Automation shouldn't replace humans, but to aid, support and empower professionals to do the work they are uniquely qualified to do.



Join our readership, get expert insight and opinion on automation and AI in healthcare directly delivered to your inbox:
×