The Alphalake masses congregated in King's Cross, our collective energy ascending into an atmosphere of excitement and anticipation. Anticipation because this was the first live event we had put on post-Covid, and excitement for what was set to be an intriguing day.
As a North Londoner, my journey was a quick one filled with comfort and ease. I did not envy those on the main line, but nevertheless, there were smiles all around. Sitting alongside the endless development of Google and Meta's "landscrapers", our King's Cross office provided the perfect environment for a conversation revolving around technology and healthcare.
By midday, we'd been treated to a scrumptious assortment of delicacies. With tummies full and comfortably satisfied, it was time to settle in for an equally nourishing afternoon of engaging discussion about intelligent automation and the future of healthcare.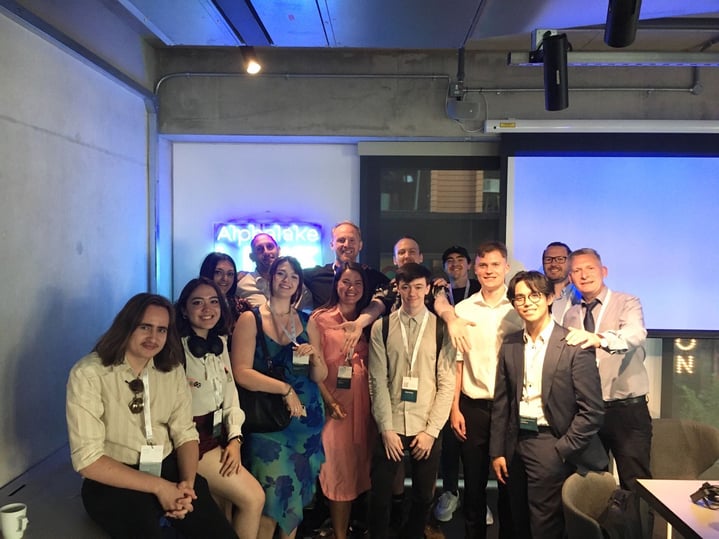 The need for semi-autonomous automation in healthcare
Alphalake Ai Founder and CEO Olly Cogan kicked things off by explaining how semiautonomous automation is already within reach for healthcare, thanks to platforms like Workato and Robocorp. Olly then introduced the members of our first panel:
Over an hour of lively debates and discussions ensued with Tom Allen, Founder of AI Journal and Board Advisor of Community Engagement and Impact for Alphalake Ai, moderating, with one of the highlights being Annabelle's insight into the clinical applications of automation in the NHS. Her experience as a clinical lead and GP shone through. Antti also provided many insightful comments about automation in general and Robotics Process Automation (RPA) specifically.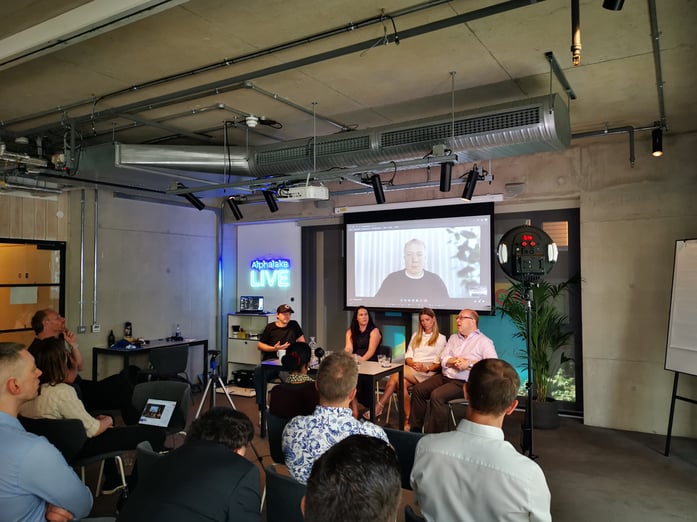 Path dependence and intelligent automation
Practical applications of automation were the core focus of our first panel. Robocorp CEO Antti Karjalainen raised the particularly powerful concept of "path dependence", explaining that the decisions and roadmaps previously pursued in an organisation will impact the availability of options and the "paths" that the organisation can take.
In the context of automation, this starts with small steps. Building the framework and a positive image of automation within an organisation does not take place overnight, and without such groundwork, projects are doomed to be underutilised. This really drove home the point that investment in automation projects is necessary, but it's just as important to educate the people who will be using this new infrastructure.
This point was further developed in the closing moments of the first panel when the topic of user experience (UX) in healthcare technology was discussed.
The need for UX improvements in healthcare technology
As a clinician and a user of this technology herself, Annabelle provided invaluable insight into the realities of the day-to-day usage of these systems. She made it clear that clinical staff are regularly let down by the user experiences offered by current healthcare technology.
Many audience members were shocked to learn that clinicians and healthcare departments often use WhatsApp for communications. While this may solve immediate problems, it creates long-term issues surrounding record-keeping and continuity in patient care. Annabelle stressed the importance of developing intuitive user experiences if adopting automation is to be taken seriously in healthcare.
Food for thought
These revelations brought our first-panel discussion to a powerful conclusion, leaving the audience with much to ponder and discuss during the break that followed. With another scrumptious feast ready and waiting, this break gave our audience and panellists plenty of time to engage in lively discussion, further developing the points raised.
The room had a wide range of ages and experience levels, but all those present shared an interest in automation. Many new connections were made, and conversations flowed about everything from the price of cheese to bigger questions surrounding the future of our NHS. I am sure many felt they could have chatted for longer, but before we knew it, the time had come to take our seats for the final act.
Masood Ahmed
Delving into API-led automation with Workato
The final discussion for the day was led by James Norman, founder of EMEA Health & Life Science Solutions. The panel included:
With this collection of expert panellists, we were able to dive into the way Alphalake Ai has built on Workato's platform to expand into the new territory of Hybrid Automation.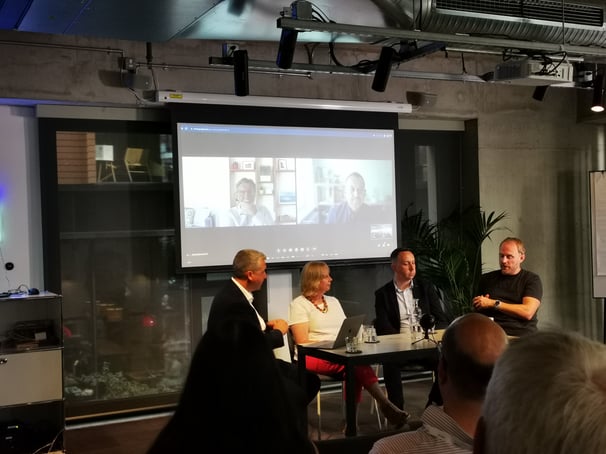 The importance of solving problems without creating new ones
I particularly enjoyed Masood's analysis of how developers of digital solutions must be careful to avoid exacerbating inequalities in healthcare. Building on this concept with his deep knowledge of automation, Massimo illustrated some of the problems we face in trying to automate workflows. A notable example was the challenge of getting different Information Systems to communicate with each other effectively.
Within a healthcare organisation, there may be people who use pens and paper, while others use the company's shared hard drive. This all feeds into how quickly we can collect and streamline information using the least amount of resources possible.
Creating standard operating procedures is important, but creating systems to deal with this data is the key to unlocking automation potential and saving time and valuable resources.
Why is there resistance to innovation in healthcare?
This was one of the most powerful questions brought up at Alphalake LIVE: London. Why is there such resistance to innovative ideas within the NHS? Our panellists discussed the difficulties faced when attempting to persuade NHS trusts to implement solutions they or other trusts have not tried before.
One of the best strategies offered to address this conundrum was to prove the effectiveness of automation by offering lower prices to early adopters and then delivering results. Doing so allows automation providers to share the risk with their customers. Of course, there is still a labyrinth of red tape to navigate.
The governance of automation
Our final panel closed on the crucial question of automation and governance. If automation is to be used in a wide range of areas in a healthcare setting, who should be responsible for the governance of the systems? Should it be managed individually by the departments using it? Automation in the finance department of the NHS is, after all, much different from that used in a clinical setting. Here, the idea of stewardship was raised by Masood. He felt those building the system should also take responsibility for its upkeep.
Alphalake LIVE: London – Final Thoughts
As an Alphalaker, I found this event very insightful and helpful to my development. It was my first time ever attending an event of this type, and as an apprentice, I'm very keen to take part in more collaborative experiences like this. I found it super impactful to hear everyone's opinions and feel everyone's passion for what they do.
Observing the lively discussion and collective development of powerful ideas made me proud of what we do every day at Alphalake Ai. I managed to connect with multiple attendees and a couple of the speakers, and it was rewarding to hear that they, too, found the day beneficial on a variety of levels.
Because the event was hybrid, welcoming both in-person and virtual attendees, we now have recordings of the day, allowing anyone who was unable to attend to benefit from the ideas that flowed forth. We will be using these valuable recordings as a tool to help inform healthcare professionals of the powerful benefits they can gain through the adoption of intelligent automation.
On behalf of my fellow Alphalakers, I would also like to thank everyone involved for a wonderful day. This is only the beginning of what will be a fruitful series of intelligent automation events, and we look forward to seeing you at the next edition of Alphalake LIVE.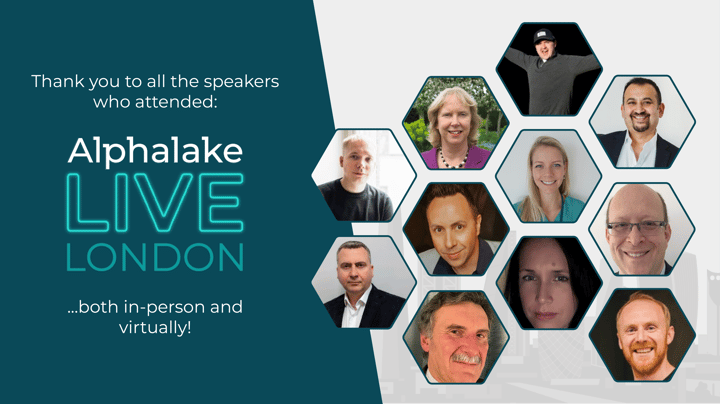 Join our readership, get expert insight and opinion on automation and AI in healthcare directly delivered to your inbox:
×