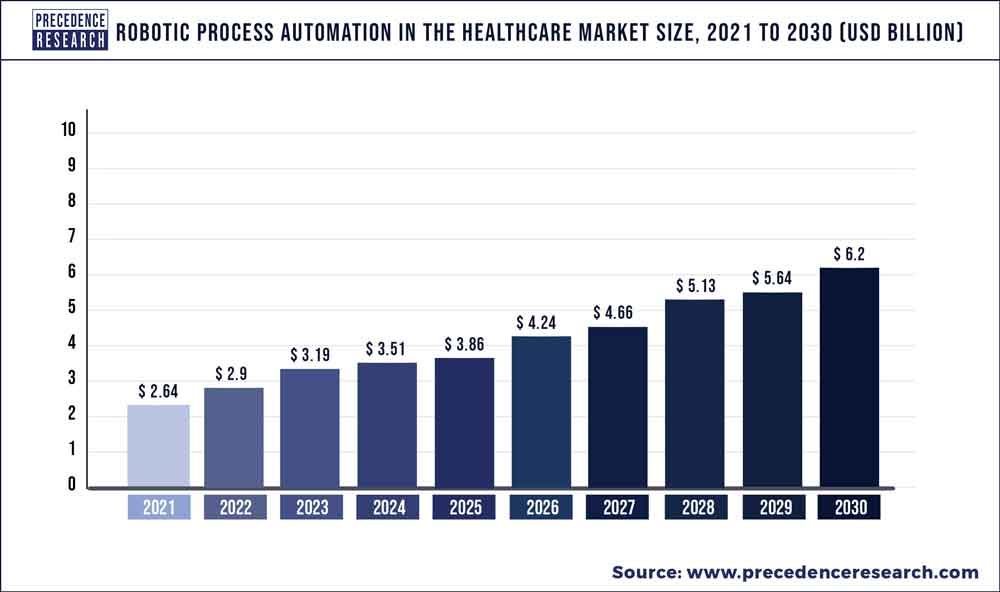 According to Precedence Research, the global robotic process automation market size within healthcare was evaluated in 2022 at $2.9 billion, up from $2.64 billion in 2021. It is expected to increase to $3.19 billion in 2023, ultimately arriving at $6.2 billion by 2030, as Intelligent Business Automation is seen to power the future of the healthcare industry.
Alphalake's Founder and CEO, Olly Cogan commented on why RPA is being valued so highly:
As more No Code API-based automation and iPaaS are adopted and more software level integration handles increasingly more of the process automation, this will increasingly see RPA screen bots needed less, but this will really be seen in the medium term of 5-10 years. Even the most advanced industries and organisations benefitting from integration-led automation are still seeing value from RPA screen bots across legacy systems and human task work.
RPA is a useful in the automation toolkit and it's going to be around for a while to come. When used in the right way and for the right parts of process automation and integration, RPA can be powerful and drive impactful results, we just need to ensure this investment is not higher than it needs to be, so healthcare organisations get a fair deal and drive transformation without taking on unnecessarily high costs of change through lack of awareness of the benefits of nocode Connectors, iPaaS and RPA. What we have led the way on at Alphalake Ai and have coined "Intelligent Hybrid Automation". I predict we'll see the market follow suit and converge RPA with iPaaS in the years to come. It will be interesting to see how market analysts deal with this, in terminology and investment forecasts.
Would you like to read more about Automation spending in Healthcare? You can read more of Precedence Research's findings here.
Join our readership, get expert insight and opinion on automation and AI in healthcare directly delivered to your inbox:
×